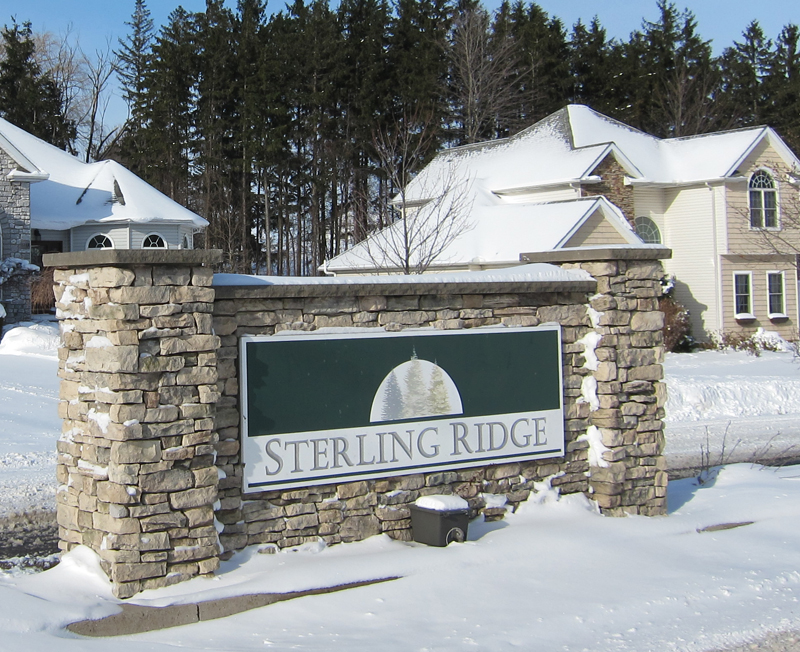 Sterling Ridge: A Gorgeous Neighborhood in Erie, PA
Sterling Ridge is the perfect blend of tranquility and accessibility. Impressive homes with large, manicured lawns line the streets of this attractive community. Situated on a serene, wooded hilltop and surrounded by countryside, the peaceful neighborhood is an incredibly scenic location in southeast Millcreek. Residents of all ages are grateful that the neighborhood is as safe as it is beautiful, and the local school district is one of the top in the country. The cherry on top of this residential sundae is Sterling Ridge's ultra-convenient location, making the community one of the most sought-after subdivisions in Erie.
The Homes in Sterling Ridge are Masterpieces
Built with style, luxury, and functionality in mind, the estates in Sterling Ridge are the ultimate venues for entertainment and comfortable living.
Most of the homes in Sterling Ridge include features such as:
Spacious and first-floor master suites
Walk-in closets
Dramatic, two-story great rooms
Covered patios
Fireplaces
Hardwood floors
3-4+ bedrooms
Ideal Location in Millcreek Township
Sterling Ridge is ideally located to enjoy proximity to excellent schools, a wide variety of recreational options, and an assortment of dining and shopping establishments. Residents also have easy access to major roadways (I-90, I-79, RT 19 and RT 20) and the Erie International Airport is only minutes away, allowing painless daily commutes and travel plans. 
Residents of Sterling Ridge are only minutes away from: 
Lake Erie
Lake Ontario
Millcreek Mall
Erie Zoo
Presque Isle State Park
Erie Maritime Museum
Erie Art Museum
Historic Warner Theater
Waldameer Park and Waterworld
and much more!
Sterling Ridge is Calling You Home
If you would love to come home to the beautiful neighborhood of Sterling Ridge, contact us, your Erie, PA real estate experts, and we will help you make your dream a reality.
We are happy to offer resources for all of your home buying needs, including a mortgage calculator, an Erie, PA home buying guide, the best local listings, and much more. 
What's Nearby?
Nearby Attractions
There's so much to enjoy in Millcreek! Visit a local park, like Ashbury Park, or Belle Valley Park. Find quiet relaxation at the Presque Isle State Park. Catch an exciting event, live music, or a theater performance at the Historic Warner Theater. Or head to Millcreek Mall in Millcreek for a day of shopping.
Shopping & Dining
You won't have to go far to find all the shopping, dining, and other conveniences you need. In fact, just outside the neighborhood on E Grandview Blvd you'll find Skyline Restaurant and Pizzeria, and Great Wall Restaurant. Even more options are located at the Summit Towne Center, Glenwood Plaza, or Perry Plaza.
Travel & Commute
Downtown Erie: 4.5 miles
Downtown Corry: 29.2 miles
Presque Isle: 9.3 miles
Erie International Airport: 10.2 miles
Public Schools
District: Millcreek Township
Elementary: Belle Valley
Middle: Walnut Creek
High: McDowell
---
List Your Home in Erie, PA With Us for Fast Results
Are you considering selling your home in Erie, PA? You can use our seller resources to determine the value of your property and check out the Erie, PA Sold Report. List your home with Marsha Marsh Real Estate Services for a quick and painless sale. 
Discover Millcreek
Tucked around the city of Erie and along the shores of Lake Erie, Millcreek, PA is a thriving suburban community filled with shopping, dining, entertainment, and more. Find your new home in Millcreek with the Marsha Marsh Team!