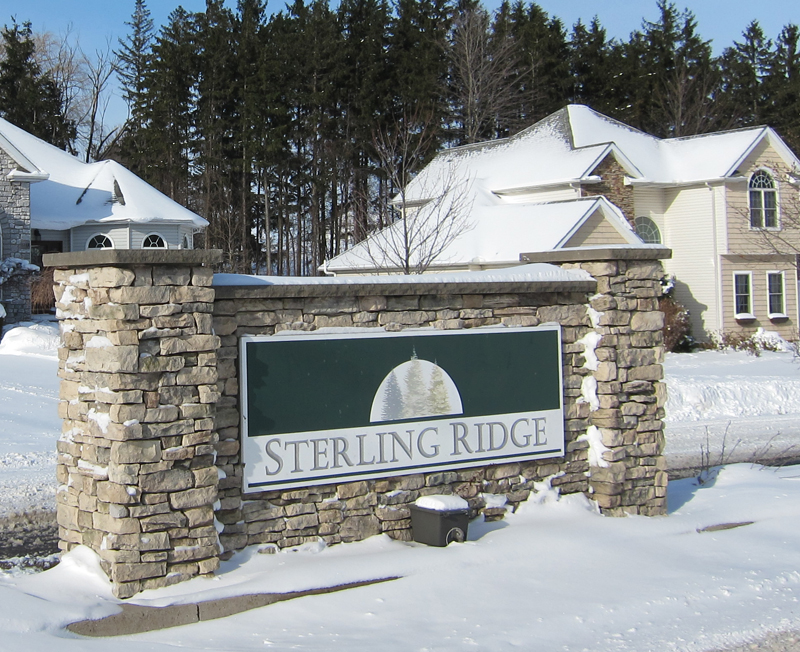 Discover Sterling Ridge
Sterling Ridge is the perfect blend of tranquility and accessibility. Impressive homes with large, manicured lawns line the streets of this attractive community. Situated on a serene, wooded hilltop and surrounded by countryside, the peaceful neighborhood is an incredibly scenic location in southeast Millcreek. Residents of all ages are grateful that the neighborhood is as safe as it is beautiful, and the local school district is one of the top in the country. The cherry on top of this residential sundae is Sterling Ridge's ultra-convenient location, making the community one of the most sought-after subdivisions in Erie.
---
Find Homes for Sale in Sterling Ridge
Selling Your
Sterling Ridge Home?
Ready for a fresh start in a new home? The first crucial step is discovering the true value of your current property. Our top-notch real estate services specialize in providing a comprehensive home valuation, empowering you to set the perfect listing price. Don't hesitate to contact us and let us guide you through the fiercely competitive market, ensuring you make the most of your sale. It's time to seize this opportunity and unlock the door to your dream home!
Spotlight Features of the Community
Prime Location
Located in southeast Millcreek, Sterling Ridge offers a peaceful neighborhood surrounded by green spaces and countryside. With convenient access to highways, local shopping, and excellent schools, it combines serene living with modern amenities. Situated on a serene, wooded hilltop just south of Arbuckle Road and Lake Pleasant Road, Sterling Ridge provides the perfect blend of natural beauty and convenience in the beautiful Millcreek Area.
Masterfully Designed Homes
Immerse yourself in the masterfully designed homes of Sterling Ridge. With spacious master suites, walk-in closets, dramatic great rooms, covered patios, fireplaces, hardwood floors, and multiple bedrooms, these homes offer a perfect blend of luxury and functionality. Discover the epitome of refined living in this exceptional neighborhood.
Sterling Ridge Attractions
The Details on Sterling Ridge
Beautiful homes
Sterling Ridge homes are thoughtfully designed, emphasizing style, luxury, and practicality. These estates serve as exceptional spaces for both entertainment and comfortable everyday living, perfectly blending elegance with functionality.
Vibrant community
Sterling Ridge in Millcreek, Pennsylvania, is a vibrant and close-knit community. Residents share a passion for elegant living and a welcoming atmosphere. This neighborhood thrives on connection, with regular social events and gatherings that bring neighbors closer. It's a unique blend of luxury and community spirit that makes Sterling Ridge a remarkable place to call home.
Outdoor fun
Discover an outdoor paradise in Sterling Ridge. With Lake Erie and Lake Ontario nearby, residents can enjoy water activities and stunning views. Explore the Millcreek Mall for shopping and dining, visit the Erie Zoo for a wildlife adventure, and immerse yourself in nature at Presque Isle State Park. Dive into maritime history at the Erie Maritime Museum, appreciate art at the Erie Art Museum, and experience live performances at the Historic Warner Theater. For family fun, head to Waldameer Park and Waterworld. Sterling Ridge offers a world of outdoor excitement right at your fingertips.
Public schools
Millcreek Township's assigned schools provide a well-structured educational path. Belle Valley Elementary School (PK-5), James S Wilson Middle School (6-8), and McDowell High School (PK-12) ensure a smooth and consistent learning experience within the Millcreek Township School District.
---
Start Searching for Your Sterling Ridge Home
Discover your ideal Millcreek residence and uncover a personal haven in the enchanting Sterling Ridge community, all with the expert assistance of Marsha Marsh Real Estate Services. Allow us to navigate you through this prestigious neighborhood, ensuring you find the perfect Erie home that aligns with your unique desires and requirements. Contact us today to share your preferences, and we'll be delighted to embark on a dedicated search for your dream property amidst the serene woodlands of Millcreek, Pennsylvania. Your future paradise awaits, so don't hesitate to reach out to us now!
Discover Millcreek
Tucked around the city of Erie and along the shores of Lake Erie, Millcreek, PA is a thriving suburban community filled with shopping, dining, entertainment, and more. Find your new home in Millcreek with the Marsha Marsh Team!