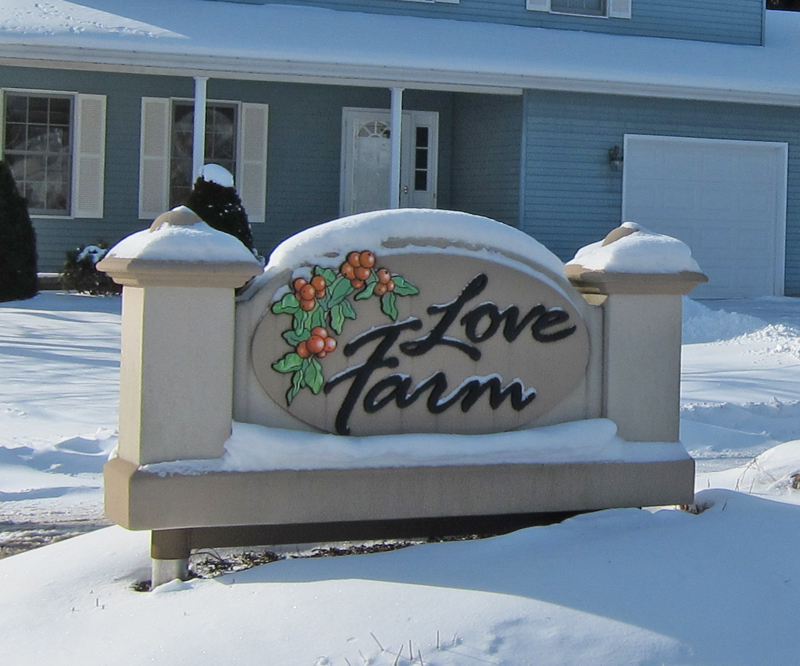 Fall in Love with Love Farm: Subdivision in Erie, PA
Love Farm was named for the Love family, who has lived in the area since the 1800s or even earlier. Many of the streets in the subdivision are named after Love family members, who left a beautiful, neighborly community as their legacy. A few family members still live in the area, because they love it so much.
Friendly neighbors in Love Farm will make you feel right at home, and there are plenty of opportunities to meet them at community gatherings, and even an annual community garage sale. The quiet streets are safe for families and residents of all ages. Rolling hills create a scenic backdrop for bike rides, jogs and walks along the sidewalks that wind throughout the neighborhood.
---
Comfortable & Modern Homes
The Charm of the Homes in Love Farm
The Love Farm subdivision includes approximately 240 homes, built between 1992-1998, and situated on luscious, manicured lots. The landscape has had time to develop, and elegant, mature trees are abundant throughout the community, providing shade, beauty and privacy. 
The homes of Love Farm are beautiful inside and out, and many include features such as:
Open floor plans
Vaulted Ceilings
Custom kitchens
Stainless-steel appliances
Granite countertops
Hardwood floors
Spacious master suites
Finished basements
Fireplaces
Decks
Full bar areas
Outdoor patios
3-4+ bedrooms
---
Ideal Location in Millcreek Township 
Residents of Love Farm are close to local shopping, restaurants, schools, and several major highways. With easy access to major roadways (I-90, I-79, RT 19 and RT 20) and the Erie International Airport only minutes away, everything from your daily commute to international travel plans will unfold seamlessly. 
Student-age children in Love Farm are served by the highly-rated Millcreek School District and a number of excellent nearby private schools. Additionally, Erie County Technical School is right around the corner./p>
Popular attractions that are only a short drive away include:
Lake Erie
Presque Isle State Park and beaches
Summit Towne Center
Millcreek Mall
Erie Zoo
Summit Community Park
Erie Maritime Museum
Erie Art Museum
Historic Warner Theater
Waldameer Park and Waterworld
Erie Art Museum
and much, much more!
The Home of Your Dreams is in Love Farm
If you would love to come home to the beautiful neighborhood of Love Farm, contact us, your Erie, PA real estate experts, and we will help you make your dream a reality.
We are happy to offer resources for all of your home buying needs, including a mortgage calculator, an Erie, PA home buying guide, the best local listings, and much more. 
What's Nearby?
Nearby Attractions
There's so much to enjoy in Millcreek! Visit a local park, like Summit Community Park, or Presque Isle State Park. Find quiet relaxation at Lake Erie. Catch an exciting event, live music, or a theater performance at the Historic Warner Theater. Or head to the Erie Zoo in Erie to see your favorite animals.
Shopping & Dining
You won't have to go far to find all the shopping, dining, and other conveniences you need. In fact, just outside the neighborhood on Interchange Road you'll find O'Charley's Restaurant and Bar, and Olive Garden Italian Restaurant on Peach Street. Even more options are located at the Millcreek Mall Complex, Peach Street Marketplace, or Millcreek Marketplace.
Travel & Commute
Downtown Erie: 7.6 miles
Downtown Corry: 33.9 miles
Presque Isle: 8.8 miles
Erie International Airport: 4.2 miles
Public Schools
District: Millcreek
Elementary: Ashbury
Middle: Walnut Creek
High: McDowell
---
List Your Home in Erie, PA With Us for Fast Results
Are you considering selling your home in Erie, PA? You can use our seller resources to determine the value of your property and check out the Erie, PA Sold Report. List your home with Marsha Marsh Real Estate Services for a quick and painless sale. 
Discover Millcreek
Tucked around the city of Erie and along the shores of Lake Erie, Millcreek, PA is a thriving suburban community filled with shopping, dining, entertainment, and more. Find your new home in Millcreek with the Marsha Marsh Team!